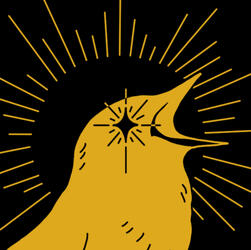 Misplaced Creatures:
a Bestiary for Ukraine
Upcoming

charity e-book with merch

with the mission to support pets and animals left behind in Ukraine!

Join our Mailing List

for progress snippets, news, early access to the zine launch, and more!
Pre Orders OPEN!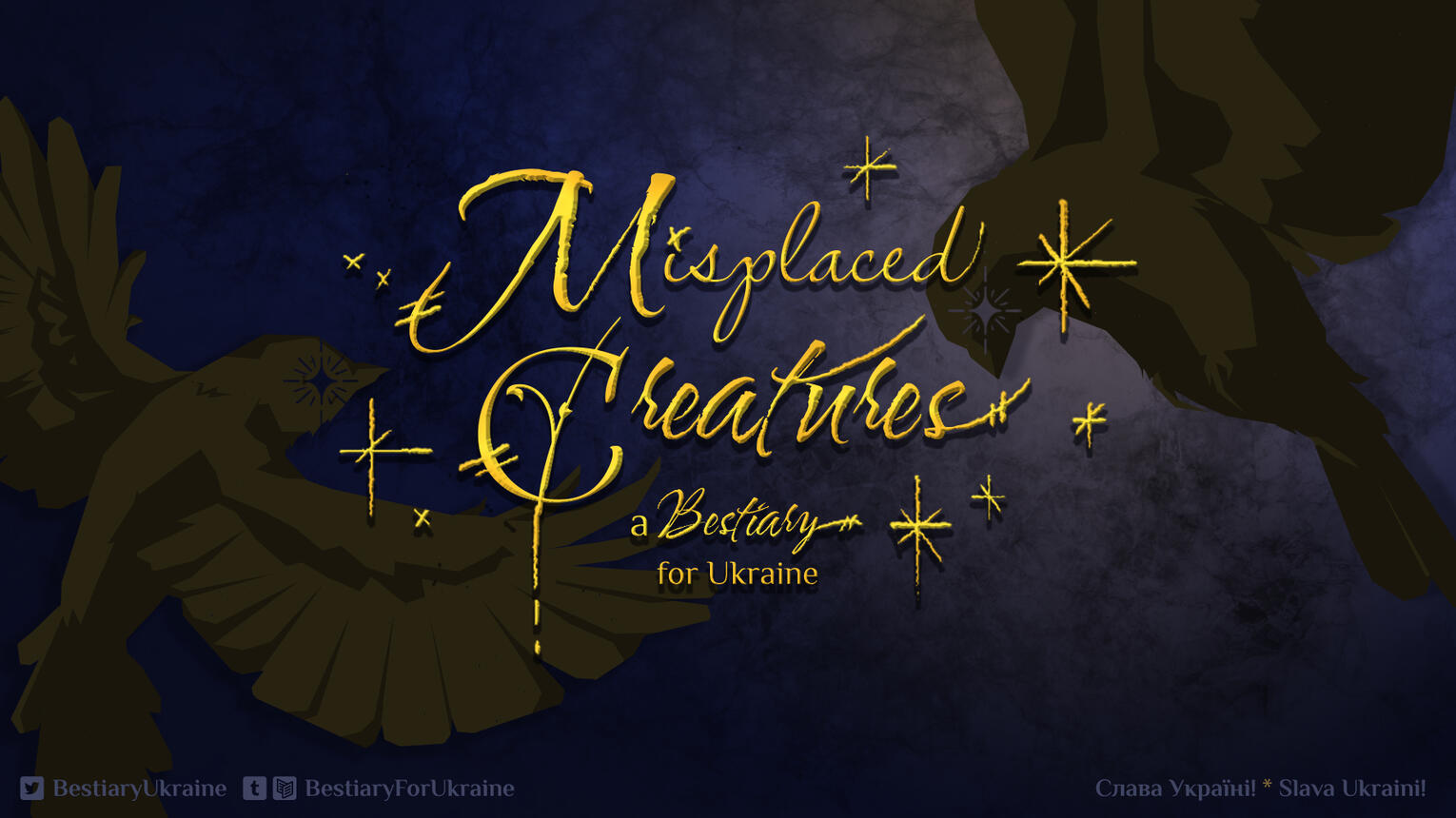 PURPOSEOn February 24 2022 Russia invaded Ukraine and forced 8.4 million people to flee their homes in order to save their lives.In the frenzy to pack and say goodbye to their loved ones, many refugees were unable to take their pets with them and had to leave them behind. Some animals were lost during bombings. Some had to be abandoned at borders because of a lack of paperwork. Many animals have lost their owners in the war.This project aims to raise funds for the shelters left in Ukraine where volunteers feed and care for as many animals as they can possibly help.
To learn more about the war and what is currently going on in Ukraine click here.


PROJECT PLANCONTENT
Theme: Bestiary of folk/mythological/fantastic animals.
Contributors: Aiming for around 35 artists.
Rating: PG-13 (Main Zine).
Allowed: Non-humanoids only! Existing fantastic/folk/mythical creatures allowed. OC creatures allowed. Real animals allowed as long as they are related in some way to myth/folk/legend (ex. manatees are believed to be what sailors saw and called mermaids).
Sections: Book will be structured by region/biomeEND PRODUCT
Zine: 40-50 page digital art book.
Physical Zine: TBD.
Merch: Icons, emojis, wallpapers, printable coloring pages, digital calendar. Possible early bird limited physical trading cards.
Stretch Goal: TBD.
Charity: TBD.
Store: Bigcartel.
Contributor Compensation: Complementary copy of all digital items. If any physical items should get produced, contributors will receive a copy + shipping for free, funds allowing (or at production cost should funds be insufficient).INTEREST CHECK RESULTS
SCHEDULE
| Date | Milestone | Event |
| --- | --- | --- |
| July 10th - Aug 15th: | Mod apps | |
| Aug 16th - 20th: | Results sent, acceptance deadline | Homeless Animal Day |
| July 10th - Aug 20th | Interest check | |
| Aug 28th | Results posted | Rainbow Bridge Day, Animal Remembrance Day |
| Sept 1st - Oct 1st: | Contributor apps | Animal Pain Month |
| Oct 8th - 14th | Results sent, acceptance deadline | World Animal Day, Salmon and Octopus Day |
| Oct - Dec: | Creations period | |
| Oct 16th - 17th: | Concepts pitches | Global Cat Day, National Feral Cat Day |
| Oct 28th - 31st: | Check-in #1 | National Cat Day, Feed Birds Day/Treat Your Pet Day, Halloween |
| Nov 18th - 20th: | Check-in #2 | |
| Dec 9th - 11th: | Final submission | International Animal Rights Day, Holiday Food Drive for Needy Animals Day |
| Jan: | Preorders | |
Curators [mods]
Pewpewpew is a visual artist based in Transylvania who has done graphics for a multitude of projects including Beyond a Bond: an InoShikaCho Zine and Midnight Melodies: a Castlevania Zine.Transylvania borders Ukraine, so she has had the opportunity to help Ukrainian refugees in several ways ever since the war broke out in February. She has seen many people cross the border into Romania with their beloved pets and cannot help but think about those who had to be left behind.This project is of the utmost importance and urgency for her and comes straight from the heart. Pewpewpew is proud to be taking care of 3 cats of her own and cannot begin to imagine ever being forced to leave them behind. Let us do what we can to help.
---
Luckybob Catpants is a newly hired teacher, teaching French and focusing on matters of social justice, acceptance, environmentally friendly practices to elementary school students. She's also a 4 year moderator and supporter of projects of all sorts. She's created/completed/working on over 25 projects (and counting!), from the Haikyuu fandom, AtLA, Naruto, video games, and she's got a couple of originals under her belt💙When Architect Pew requested her to be part of this project, she was beyond hyped and determined to make this a reality, as what tugged her heart the most were that many families and people wanted to bring their pets but are not able to. Having children and people who have come to think their pets as their companions for life... thinking of how they had to feel so powerless to decide for their own safety.
Animals can sometimes be overlooked as well... when she sometimes reads on the resulting damage from war, natural disasters, etc., she noticed sometimes animals aren't included in that.Her mission is to be able to give to the needed, especially ones who do not have their own voice in the discussion. It's why many if not all her projects are charity-based, and her life's work is working with youth to empower them, but also help them learn to empower themselves and others.She hopes sincerely and deeply that you support this project - even your attention can make a difference.
---
RaeGunBlast is an LA based digital artist, who jumped into the zine scene early 2020. Since then, she has been able to contribute to over 15 zines and has had the fantastic opportunity to work as a mod on Zines like Kakairu, This simple feeling (vol 6), and Naruto Dimensions.She has an absolute himbo of an orange cat that she loves dearly and is looking forward to being on a project working to help the displaced pets in the Ukraine.
---
Azuzel23 is an animator and mixed artist living in the northern hinterlands of the world with a love for reptiles, metal music and comic books. Summer finds them enjoying every ounce of sunshine while winter finds them holed up doing art stuff and witchy things. They've contributed and modded in a variety of zines and events and regularly conduct creative workshops in real life. They recently led a series of animation workshops for children fleeing the Ukraine war. This has really brought home the breadth of the crisis and they were grateful and delighted to be brought into this wonderful project.
---
Conservators [contributors]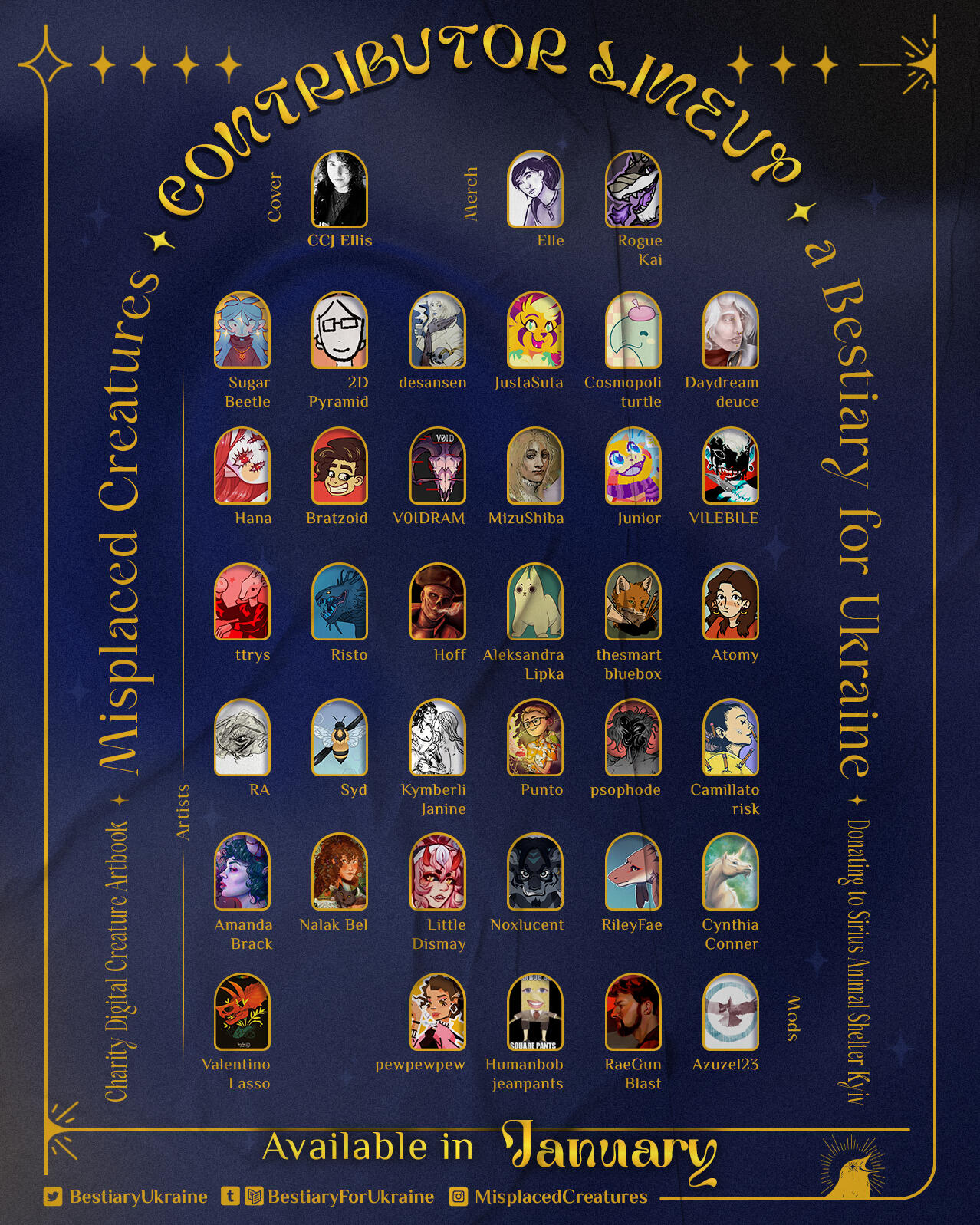 Cover Art:CCJ Ellis @/ccjellisart [Insta] I @/ccjellis [Twitter] I @/ccjellis [TikTok]Merch Art:Elle @elle-arts [tumblr] I @/elodiechen.art [Insta] I @/elodiechenart [Twitter]
Rogue Kai @/roguekaiart [Insta] I @/RogueKaiArt [Twitter]Page Art:Sugar Beetle @/sugarbeetles [Insta] I @/SugarBeetles [Twitter]
2D Pyramid @/2dpyramid [Insta] I @/4DPyramid [Twitter]
desansen @/desansen [Insta] I @/DesansenArt [Twitter]
JustaSuta @/justasuta [Insta] I @/JustaSuta [Twitter]
Cosmopoliturtle @cosmopoliturtle [tumblr] I @/cosmopoliturtle [Twitter]
Daydreamdeuce @/daydreamdeuce [Insta] I @/DaydreamDeuce [Twitter]
Hana @/soijakuningas [Twitter]
Bratzoid @/bratzoid [Insta] I @/bratzoidart [Twitter]
V01DRAM @/v0idram [Insta] I @/V0IDRAM [Twitter]
MizuShiba @mizushibart [tumblr] I @/MizuShibaPL [Twitter]
Junior @vigoburrito [tumblr] I @/vigoburrito [Insta] I @/VigoBurrito [Twitter]
VILEBILE @vile-bile [tumblr] I @/vile.bile [Insta] I @/VILEBILE [Twitter]
ttrys @ttrys [tumblr] I @/ttrys.art [Insta]
Risto @risto-licious [tumblr] I @/RistoLicious [Twitter]
Hoff @ceilingcow [tumblr] I @/CeilingCow [Twitter]
Aleksandra Lipka @/awu.digital [Insta] I @/artawu [Twitter]
thesmartbluebox @theartbluebox [tumblr] I @/thesmartbluebox [Insta] I @/thesmartbluebox [Twitter]
Atomy @atomyarts [tumblr] I @/atomyarts [Insta] I @/atomyarts [Twitter]
RA @/therottingsun [Insta] I @/Therottingsun [Twitter]
Syd @/itscaffeinebee [Insta] I @/Caffeine Bee [Facebook]
Kymberli Janine @kymjanine [tumblr] I @/kymjanine [Insta] I @/kymjanine [Twitter]
Punto @/punto.png [Insta] I @/puntopng [Twitter]
psophode @/psophode [Insta] I @/psophode [Twitter]
Camillatorisk @/camillatorisk [Insta]
Amanda Brack @/amandabrackillustration [Insta] I @/AmandaBrackArt [Twitter]
Nalak Bel @/nalakbel [Insta] I @/NalakBel [Twitter] I @/Nalak-Bel [DeviantArt]
Little Dismay @/littledismay [Insta] I @/LittleDismay [Twitter]
Noxlucent @noxlucent [tumblr] I @/noxlucent [Insta] I @/Noxlucent [Twitter]
RileyFae @/rileyfae [Insta] I @/RileyFae [Twitter] I @/RileyFae [DeviantArt]
Cynthia Conner @/dracontiar [Insta] I @/dracontiar [Tiktok]
Valentino Lasso @/valentinolasso [Insta] I @/valentino_lasso [Twitter]
APPLICATION GUIDELINESMisplaced Creatures: A Bestiary for Ukraine accepts contributions of the following kinds of Art:● Digital Art
● Traditional Art
● Mixed (a combination of traditional and digital aspects)
● Faux Scientific Journal/Sketchbook Pages (fully designed)Regardless of the kind of art created, all contributors are expected to deliver their work in a digital format that will provide quality prints and your portfolio pieces should reflect this ability. If submitting traditional works, please make sure you submit high resolution files that have been digitally cleaned and adjusted if needed.


General Information:● We are looking for Page Artists and Merch Artists.● This is a SFW charity zine, so your work in the zine will be expected to be SFW. However, for the purpose of this application, NSFW exaples are allowed provided they are properly labeled.● There is no minimum age limit requirement. Applicants under 16 must have an adult guiding them thrugh any receiving of physical goods, should any be produced. The discord server will remain PG.● We are not looking for any particular style (in fact we are excited to see a variety of styles), however we will be paying attention to the following skills: anatomy, composition, color and lighting, visual narrative (if applicable).● All communication for the project will be done though a private discord server, and as such it is mandatory to have a discord account (or be willing to make one) if you are accepted into the zine.● Applying to multiple roles (ie Merch Artist and Page Artist) is allowed. Acceptance to both roles is at the mods' discretion, and should you be accepted for both roles you would be expected to adhere to both role requirements.● Editing or re-submitting app is allowed prior to applications deadline, after which no further edits can be made.


Portfolio Specifications:● Your portfolio should consist of a Google Drive folder containing 3-5 works that best represent you as an artist. Please ensure that the link sharing is turned on for the entire folder. If you are unsure link sharing is on, check the link in an incognito browser.● Files should be .JPGs or other common and accessible image formats such as .PNGs, TIFFs, or PDFs. The only program specific file format accepted is .PSD● This zine focuses on fantastic/mythical creatures - please make sure that the majority of the pieces in your portfolio application feature an animal, beast, or non humanoid creature. This is a great opportunity to show creativity with your creature design.● We do not have background or figure requirements. We ask that you select pieces to accurately demonstrate the style and skills you intend to use for this zine. We will accept sketches, clusters of spot illustrations, and concept art as long as it is presented cohesively and takes into account the entire page.● We accept application materials featuring OCs and private works.● Additional links to a portfolio or website where we can find more of your works are welcome but not required. Please make sure such websites are primarily or exclusively dedicated to your work. Blog platforms and socials like Tumblr and Twitter are acceptable if they do not heavily feature reblogs and retweets and we are able to find your work with little effort.


Contributor Expectations:Page Art applicants agree to a full page or spread for the zine, in keeping with our standards and guidelines (SFW, 300 DPI ready for print), and to provide some cultural background on your pitched creature.Merch Art applicants agree to 1 or 2 fully designed pieces of merch within the correct specificaitons, in keeping with our standards and guidelines (SFW, 144 DPI OR 300 DPI ready for print if required), and to provide some cultural background on your pitched creature.All art contributors are expected to meet check-ins and reach out for assistance if they find themselves struggling with their piece. The discord exists as a collaborative space for feedback between contributors and mods and is also readily available to provide whatever support the artist needs ranging from collecting materials and resources to critique and reassurance.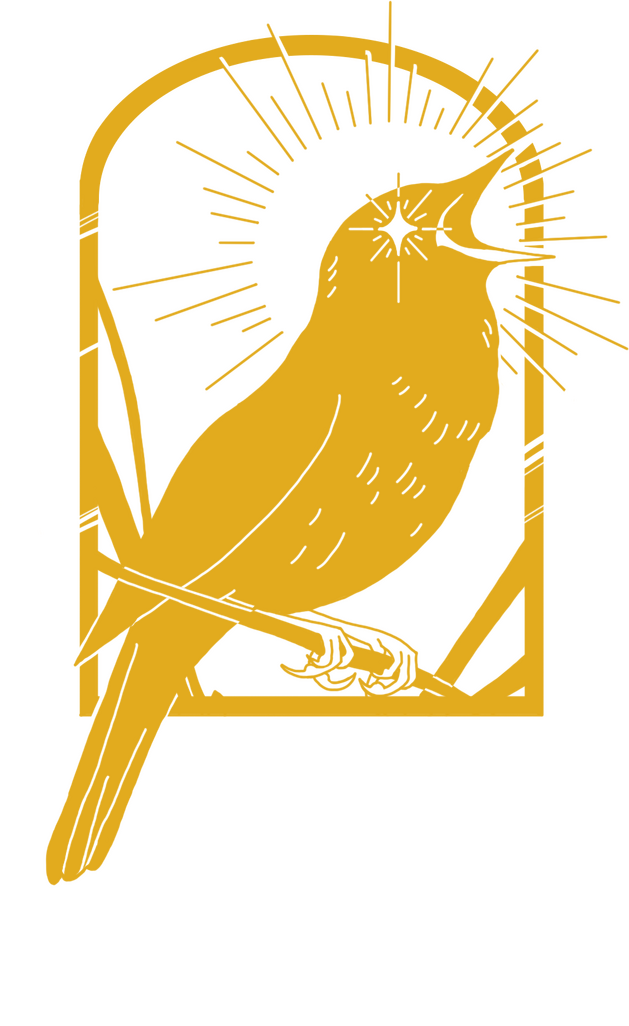 Applications now closed. Thank you!
FAQ (Updated Aug 28th, 2022)
PRODUCTQ: What is a zine?
A: A zine is a fan-created, non-official publication dedicated to a specific genre typically read by other fans who have similar interests. It can contain short stories and pieces of artwork.Q: What is a bestiary?
A: For this project, we will be defining it as a book, similar to an encyclopedia, compiling diverse (fantastic or real) animals around the world creatively depicted through various modes of art.Q: Will you consider making this project physical?
A: For now, no; however we may open the possibility of limited copies or making these products physical in the future, when possibly Pew or Humanbob are available and see enough interest in this!Q: Can the products be printable?
A: Yes! We are planning on providing a printable PDF of the bestiary, along with printable merch items, so you'll be able to print it right at home if you wish!Q: Is this project for profit or for charity?
A: This zine will be for charity, with all proceeds donated to a charity dealing directly with animal shelters in Ukraine (charity has not been chosen yet as we are currently doing our due diligence and looking into a few different options).CONTENTQ: Will insert animal type be in it? Will you consider OCs/humanoids/etc.?
A: After IC results and further consideration we have decided that humanoids will not be allowed in the zine, however all other fantastic/folk/myth animals are allowed as pitched by contributors. OC fantastic creatures are also allowed. Real animals allowed as long as they are relating to myth/legend (ex. manatees are believed to be what sailors saw and called mermaids).Q: What kind of merch/content will there be?
A: Bestiary for Ukraine is intended to be a 40-50 page digital zine [size TBD] with digital merchandise such as icons, emotes, wallpapers, coloring pages, calendar.Q: Will this project only be about Ukrainian animals?
A: Nope! We'd like a bestiary filled with animals from around the world:)Q: How will each animal be shown in the bestiary?
A: After IC results we have decided that the zine will be art only with a potential index at the end; each animal will have a page or spread of art (drawing, photography, photo of a sculpture perhaps, etc.) that can vary between concept art, character design, illustration, scientific illustration, etc (based on contributor pitches).ZINE PROCESSQ: Who can apply as a contributor? If I'm a traditional artist, can I still apply?
A. We are looking for digital or traditional artists for page art and merch art. Any artist who wishes to be a part of the project is welcome to apply. Traditional artists are also welcome to apply as long as the art can be scanned at high resolution and submitted in application (and the final zine should you be accepted) as a high quality digital scan. Prior zine experience or participation is not required.Q: Is there an age minimum for applying to this project?
A: As this is a SFW zine for charity, there is no age limit!Q: Can I apply for multipe roles?
A: Yes you may! However your acceptance into one or both roles (page artist/merch artist) is at the discretion of the mods. Should you be accepted into both roles you will be expected to abide by the expectations for both roles.Q. What time zone will this zine be following?
A: EST!
We are currently working on this section. Please check back soon!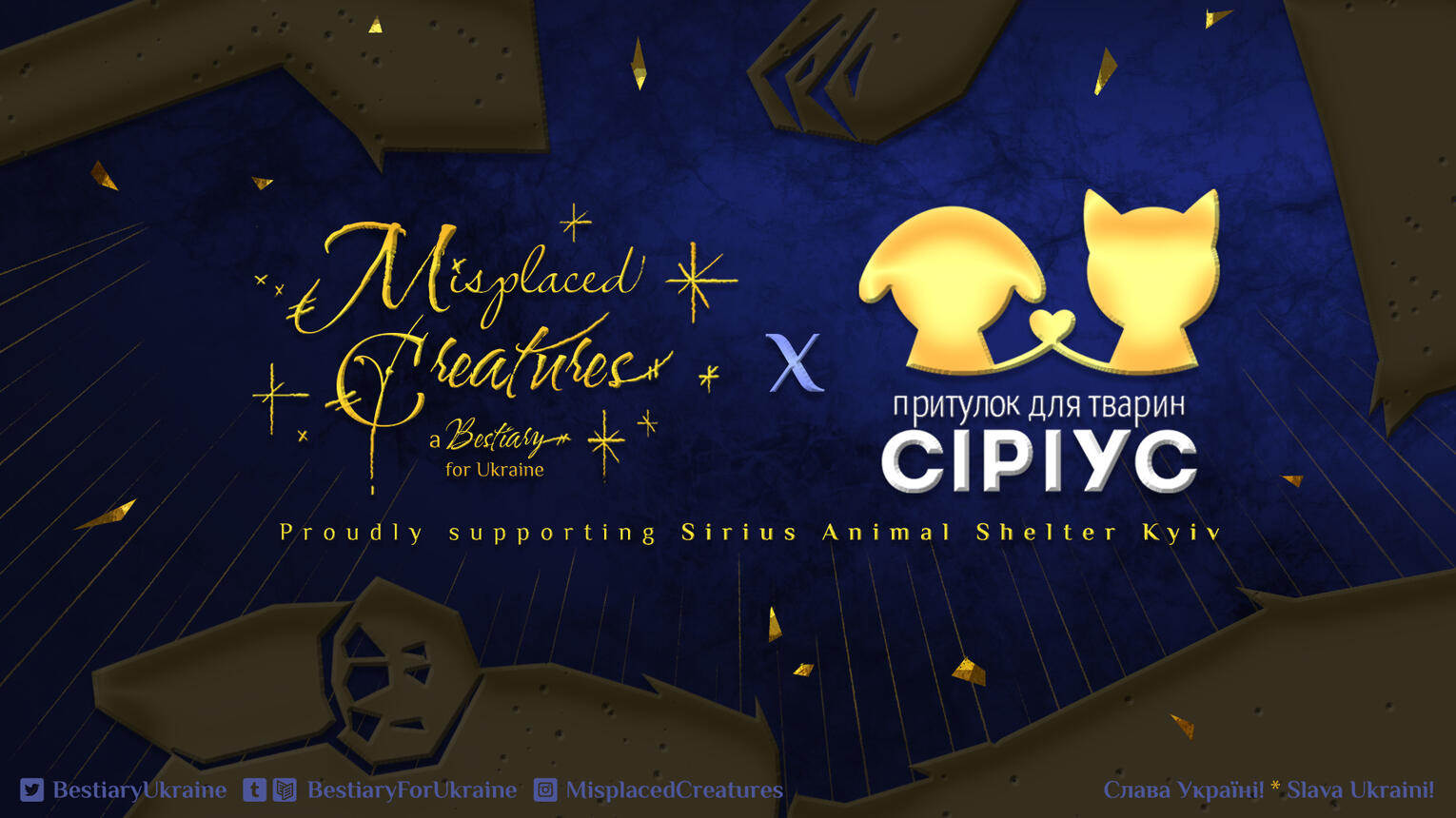 Misplaced Creatures has chosen to proudly support Sirius Animal Shelter Kyiv, the largest animal shelter in Ukraine! The shelter has remained operational through the war, and volunteers have tirelessly fed and cared for countless misplaced animals.The money Misplaced Creatures will raise will be donated to this shelter and used for animal food and medicine. Sirius Animal Shelter is active on instagram where they showcase some of the furry shelter residents 🐾We would like to thank the team behind Bogdar Charity Fund for helping us with charity vetting and translation.